Elon Musk effectively terminated his deal to acquire Twitter (NYSE:TWTR) last Friday, which resulted in a major re-pricing of the social media company's shares. Twitter's share price cratered more than 11% percent on Monday as investors reacted to the news that the company may not get acquired after all. While a lengthy court battle looms with Twitter's lawyers, short term prospects for a higher valuation of Twitter have seriously deteriorated. Without Elon Musk acquiring the social media company, Twitter's share price is at risk of falling further!
Why the deal fell apart
Twitter was a sell for me after Elon Musk submitted an acquisition offer, but recent developments regarding the take-over of the company justify a reevaluation of Twitter.
The Tesla chief effectively ended the $44B acquisition of social media company Twitter on Friday. Twitter's board agreed three months ago to sell the micro-blogging platform to Elon Musk for a take-over price of $54.20. The billionaire's plan was to initiate a strategic reset at Twitter, clear the platform of fake/spam accounts and improve the monetization model by moving away from advertisers.
However, the take-over deal is all but dead after Elon Musk informed Twitter's board at the end of last week that he was terminating the deal due to allegations that Twitter was not forthcoming in meeting disclosure obligations, as defined in the merger agreement, regarding the number of spam accounts on Twitter's platform.
In a disclosure made in May, Twitter said that false or spam accounts on its platform represented fewer than 5% of its monetizable daily active users in the first-quarter. Elon Musk demanded additional disclosures that could prove that this number was indeed true.
Twitter's board responded on Monday, saying that the termination of the deal was "invalid and wrongful" and that the social media company would seek to force the sale of Twitter to the billionaire in court.
What is going to happen to Twitter now?
It is likely that a lengthy legal battle in court will end with some kind of compromise, but a take-over has become extremely unlikely… and the market appears to agree: Twitter's share price cratered more than 11% on Monday in response to Twitter's lawyers saying they will use legal action to enforce the merger agreement.
Twitter's share price ended the day at $32.65 on Monday which is about 40% less than the take-over price of $54.20. The take-over premium has also completely disappeared: Shares of Twitter are now trading 7% below the price at the time the deal was announced, so the market is not only worried about the deal getting scrapped, but also about Twitter's future as a social media marketing platform which may face additional liabilities and an advertiser exodus.
Increased platform scrutiny could result in an advertiser revolt, lawsuits, fines and declining ad revenues
The entire discussion about the "real" number of bot accounts on the Twitter platform could have far wider consequences for the company than is currently realized. The SEC might start an investigation into Twitter's bot account disclosures which could, in the worst case, lead not only to major fines, but also potentially lead to advertisers deciding to spend their marketing budgets elsewhere.
Twitter's advertising revenues soared 40% year over year in FY 2021 to $4.5B due to a strong recovery in the digital advertising market post-pandemic. In Q1'22, Twitter's advertising revenue growth slowed to 23% rate… so Twitter is already seeing a slowdown in ad-spend this year. The worst thing that could happen to Twitter is if court proceedings revealed that bot accounts are higher than 5%. Advertisers would likely balk at the revelation and question ad rates as well as the value of Twitter as an advertising platform. Twitter's advertising business could take a serious hit (declining ad revenues, advertiser attrition) from such disclosures and even result in lawsuits.
Since Twitter depends largely on advertising revenues, a deteriorating ad business would likely create a serious overhang in the stock.
Advertisers may revolt against a higher than disclosed number of bot accounts for understandable reasons, but user trends may also be negatively affected by the controversy because the platform as a whole may lose credibility. Twitter's user growth decelerated in FY 2021, but has seen a slight up-tick in Q1'22. The peak in mDAU growth, however, was likely reached in FY 2020. Twitter's Q2'22 results will show to what extent the failed Musk take-over has affected the firm's user growth.
| | | | | |
| --- | --- | --- | --- | --- |
| Twitter, millions | FY 2019 | FY 2020 | FY 2021 | Q1'22 |
| Monetizable Daily Active Usage | 152 | 192 | 217 | 229 |
| Y/Y Growth | 21% | 27% | 13% | 16% |
| | | | | |
| mDAU United States | 31 | 37 | 38 | 40 |
| Y/Y Growth | 15% | 21% | 2% | 6% |
| | | | | |
| mDAU International | 121 | 155 | 179 | 189 |
| Y/Y Growth | 22% | 28% | 15% | 18% |
(Source: Author)
Twitter is expensive
The single best thing for Twitter shareholders would have been an acquisition of the micro-blogging platform by Musk, but this has become increasingly unlikely. The short-term outlook is extremely negative, even if Musk were to pay the $1.0B break-up fee. With concerns lingering about the future of Twitter's advertiser-driven monetization model, the share price may head even lower in the coming weeks.
Shares of Twitter have a P-S ratio of 3.9 X while companies like Alphabet (GOOG) and Meta Platforms (META) — which have larger advertising platforms, stronger free cash flow and much less risk than Twitter — have P-S ratios of 4.3 X and 3.1 X.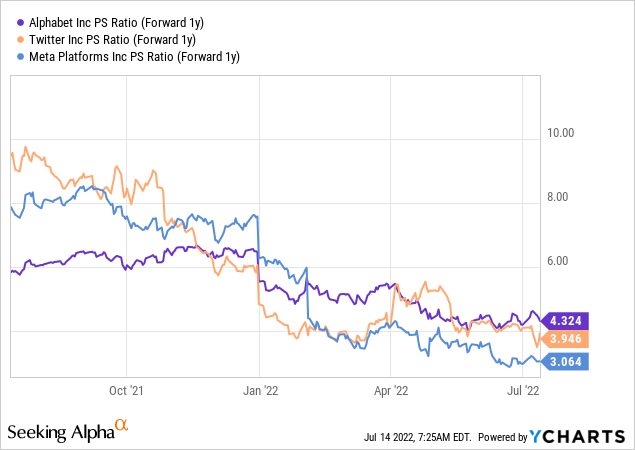 Risks with Twitter
A disclosure of the actual number of bot accounts exposes Twitter to liabilities it didn't have until now. Disclosures made to the public have to be truthful, meaning a purposeful understatement of the number of fake/spam accounts on the micro-blogging platform could bring a new set of legal headaches to Twitter's legal department. Should Twitter be forced to disclose in court a materially higher number of bot accounts, lawsuits and an exodus of advertisers may put Twitter's monetization model into peril.
Final thoughts
Risks for Twitter have greatly increased lately. Although a lengthy court battle between Elon Musk's lawyers and the Twitter board looms, the deal is most likely completely dead and the short term prospects for Twitter are not looking great either, especially if ad revenues were to take a hit from advertiser boycotts. Elon Musk may be contractually obligated to pay the $1.0B break-up fee, but an acquisition has become extremely unlikely now… which is set to further pressure the stock. Twitter shares remain a sell!